The Author Tool
Our mission is to help authors and storytellers write better stories by providing professional tools to support character development and plot composition. Read more below or make a selection from the QuickMenu.
What is Beemgee?
Beemgee is software dedicated to helping authors and storytellers develop narrative material – from the idea to a fully formed well-rounded story. Because only when the author has complete control of the material is there a chance of emotionally affecting the audience.
The author tool works in your browser (even offline) and helps you outline your plot and work out the dramatic function of your characters within the story.

The web-app is divided into a suite of three interconnected tools all accessible in each project, whether FREE or PREMIUM.
In the PLOT-outliner, you use organise cards that stand for plot events on a timeline that you arrange into the chronological as well as the narrative order. You enrich these plot event cards with information about, for instance, the characters that take part in each event, recurring motifs, point of view, etc. Using the HIGHLIGHT function, you can then see their distribution in the overall narrative. FILTER selected cards to isolate, for example, a single storyline. You can also set markers for act or chapter structure.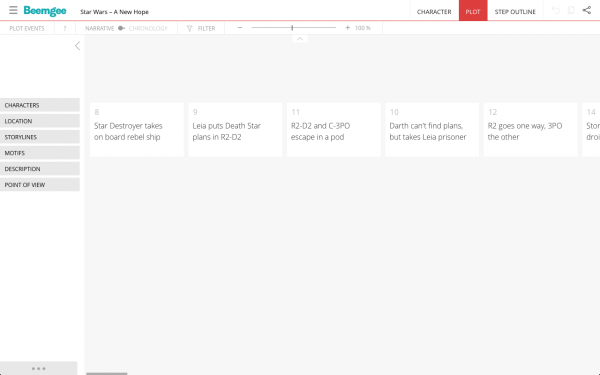 The CHARACTER-developer SINGLE view takes you through a series of questions designed to help you find the dramatic function of your main characters in the story. The tool focuses on dramaturgically relevant aspects of character development and is divided into sections:
the "external" factors that determine the plot
the "internal" factors that determine character development
meta-aspects concerning reception of the characters and their relation to each other
extrinsic aspects of characterisation

See the complete character sheet in the PREMIUM feature DETAIL VIEW.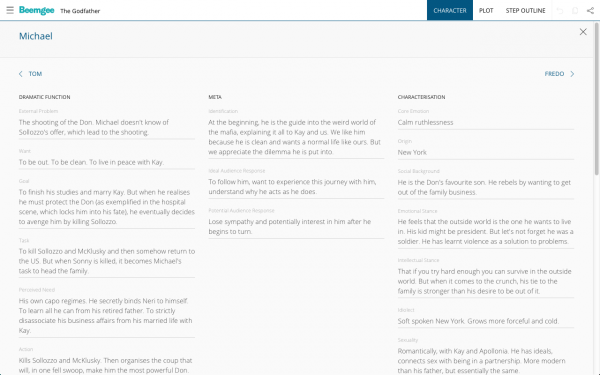 Compare and edit your answers in the MULTI view per character attribute in order to heighten the contrast between the characters, which is a great way of finding and increasing conflict in your story. You don't need us to tell you that story thrives on conflict.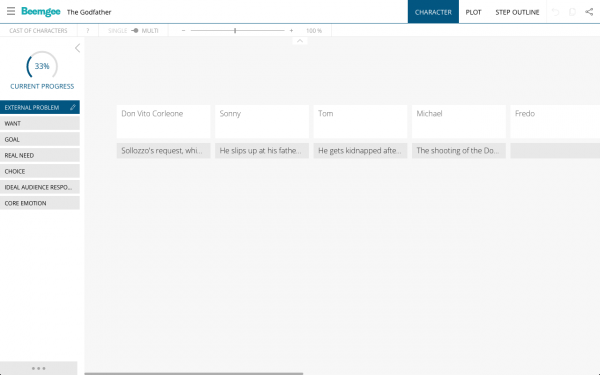 The STEP OUTLINE feature is designed to give you a complete textual breakdown of your plot. It shows you the DESCRIPTION texts for each plot event card in the narrative order.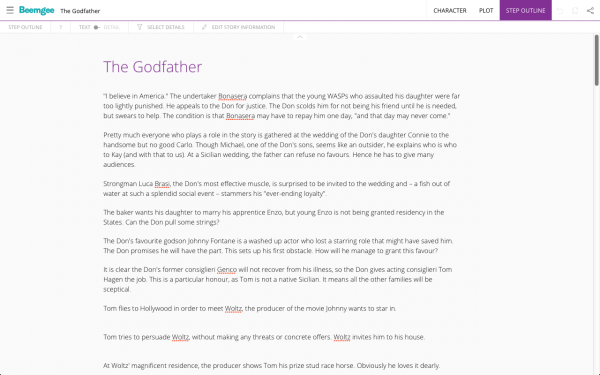 PREMIUM benefits
The standard functions of our storytelling tools are free, and you don't even need to register to create a FREE project.
With a PREMIUM account, you can keep as many projects as you like and you benefit from a host of special features and functions that will help you make your stories great. Premium benefits:
Considerably more plot attributes with which to enrich your plot events (structural markers, motifs, point of view, etc.)
PREMIUM character questions, for example on archetypes, the relationship status with other characters, change, dimensions, etc.
DETAIL VIEWS of characters and plot events.
DETAIL VIEW of your step outline, including any and all plot information you have attributed to your events.
STORY questions, concerning for example your theme, central conflict and the logline.
Export PDFs of your character sheets, the plot, the step outline, or the entire project.
We are continually updating the software, adding functions and improving usability. Since we are web-based, you don't need to install any updates in order to benefit from them.
Beemgee – it's your story.
See the full list of features here.
Or read about the software's functions and features.
To try the tool for free, just click here: