Universal storytelling principles behind the most successful movie series ever.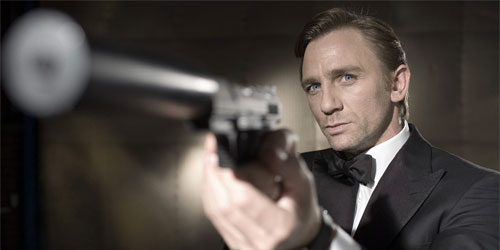 The sumptuous music of John Barry, the stunning set designs of Ken Adam, the directorial skills of Terence Young or Guy Hamilton, the innovative editing of Peter Hunt, the screen presence of Sean Connery, the zangy theme tune by Monty Norman, memorable actresses, spectacular stunts, and exotic location scouting – a fortunate convergence of individual talents built up the abiding popularity of Ian Fleming's literary creation, the British MI6 agent James Bond.
Most writers don't have access to such a talent pool, nor do most authors write action-packed spy capers. Also, 007 stories in particular seem so specific a category that authors might not consider that their own works have much in common with them. So one might be tempted to think that most writers can't learn anything useful from James Bond.
Many people say there is a James Bond formula. Guy Hamilton, director of four of the early Bond movies, has said not. But there are certainly recurring scene types and structural elements that bear examination. A closer look reveals at least seven dramaturgical principles that any author could consider applying.
The Kick-off Event
The Real Reason for M
The Real Reason for Q
A Timely Death
The Antagonist
Revelation and Confrontation
Humps