Antje Tresp-Welte is the winner of the Your Perfect Plot challenge set by BoD and Beemgee.
In her guest blog post, she gives frank insight into her writing process and her experiences with Beemgee.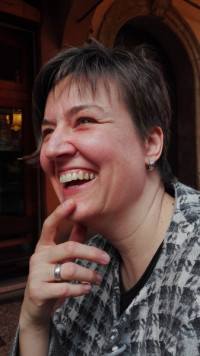 Short stories were child's play
When something intrigues me, I spin a story out of it. Until a few years ago I wrote mostly fairy tales, short stories for adults, poetry and stories for younger children, some of which were published in magazines. My story about a bad-tempered spectacled snake was published as a little book, "Charlotte and the Blue Lurker". For all these stories I only sketched a few thoughts as planning and then wrote them down relatively quickly.
By now, book projects fascinate me too. Currently they are crime novels and fantasy for children from 8 or 10 years.
Long takes longer …
During a holiday at the North Sea I had the idea for my first crime novel. In it, the protagonist, an eleven-year-old very imaginative boy with a penchant for drawing, not only saves his grandma's tea room from demolition, but is also involved in a mysterious story about a pirate who died long ago. I developed the original idea into a plot at a seminar for authors. I found the topic so great that I couldn't wait to start writing it. Beforehand, I made notes on the individual characters and considered important cornerstones of the plot with the help of the hero's journey. I started off with a great momentum and was soon able to read the first chapters to my son. Unfortunately his comment was, "Mama, that is much too long!"
… not to be longwinded
My two test readers came to a similar conclusion and I too had noticed that it somehow "grated". I wasn't really getting to the point. Was it due to my preliminary planning? Was it not detailed enough? I dived into the text, shortened passages, removed individual characters and worked out others more precisely. This changed entire storylines. At the same time my story gained more (narrative) speed and I found the tone for the language.  (more…)