Reflections on dialectically guided writing, or: Can dialectics help us tell better stories?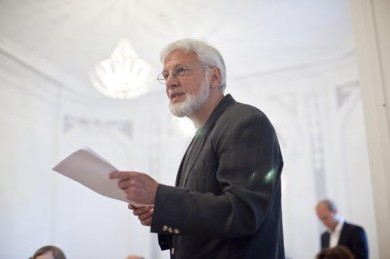 Guest post by Richard Sorg.
Prof. Dr. phil. Richard Sorg, born in 1940, is an expert in dialectics. What is that, and what does it have to do with my novel? Well, "All great, moving and convincing stories are inconceivable without the central significance of the contradictions and conflicts that represent the driving energy of movement and development." This puts us in the middle of dialectics. And of storytelling.
After studying theology, sociology, political science and philosophy in Tübingen, West Berlin, Zurich and Marburg, Richard Sorg taught sociology in Wiesbaden and Hamburg. His book "Dialectical Thinking" was recently published by PapyRossa Verlag. (Photo: Torsten Kollmer)
Ideas that contain a potential for conflict.
Sometimes there is a single but central chord at the beginning of a piece of music, even an entire opera, which is then gradually unfolded. Its inherent aspects, harmonies and dissonances emerge from the chosen, sometimes inconspicuous beginning, undergoing a dramatic, conflictual development, so that a whole, complex story emerges at the end of the path of this simple chord after its unfolding. This is the case, for example, with the so-called Tristan chord at the beginning of Richard Wagner's opera "Tristan und Isolde", a leitmotif chord that ends with an irritating dissonance.
The beginning of a story is sometimes an idea, an idea which you may not know how to develop. But some such ideas or beginnings carry a potential within them that is capable of unfolding and which holds unimagined development possibilities. 'Candidates' for viable beginnings – comparable to the dissonant Tristan chord mentioned above – are those that contain a potential for conflict or contradiction within. But it can also be a calm with which the matter is opened up, a calm that may then prove to be deceptive. We also find something similar in some dramas, for example with Bertolt Brecht.
And with that, we are already in the middle of dialectics.  (more…)