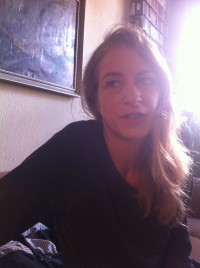 Author and creative writing teacher Jesse Falzoi was born in Hamburg and raised in Lübeck, Germany. Back in the nineties, after stays in the USA and France, she moved to Berlin, where she still lives with her three children.
She has translated Donald Barthelme stories into German. Her own stories have appeared in American, Russian, Indian, German, Swiss, Irish, British and Canadian magazines and anthologies. She holds an MFA in Creative Writing from Sierra Nevada College.
Her new book on Creative Writing is released end of May 2017. 
At the age of twenty-one I quit university and bought a one-way ticket to San Francisco, USA. I wanted to get far away from my first attempts to grow up. I wanted to get away from a frustrating relationship and boring courses and everything that was pushing me to take life more seriously. I didn't have any plans what I would be doing in San Francisco but I had the address of an acquaintance I had made a year before. I went on a journey that was physical in the beginning and became more and more spiritual during the process. I bought a return ticket in the end and went back to my hometown just to pack my suitcases for good; I'd be staying in Germany, but I wouldn't be staying home.