The first novel to state in black and white that the author worked with Beemgee.
This is certainly not the first book for which our author tool was used. But it is the first time that an author explicitly mentions Beemgee in her acknowledgements. Thank you, Katharina, we're glad you use Beemgee during your story development!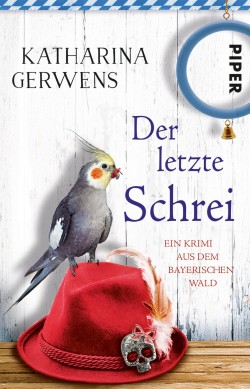 All The Rage – Der letzte Schrei
published by the renowned Piper Verlag (Bonnier group)
Susanne Pfeiffer has recently joined the Beemgee team. She interviewed her friend Katharina Gerwens for us.
Beemgee: Congratulations, Katharina! It's always great when you can hold your own book in your hands … How many novels have you published so far?
Katharina: This is my eleventh regional thriller published by Piper. Soon I'll make it a dozen ….
Beemgee: I think ALL THE RAGE is a really good thriller title! You like double meanings. – But I want to get at something completely different: You know my foible to start every book by reading the acknowledgements – and here it says, last but not least, you worked on the plot with BEEMGEE! How so?
Katharina: Because for me any support I get is worth mentioning! I have asked so many people in my field about all sorts of things, and in these conversations new aspects have always emerged – the least I can so is say thank you! ALL THE RAGE is, by the way, the first book in which I worked with Beemgee – and it was a great help to me. 
Beemgee: I find it unusual that you mention your tools so candidly to your readers: Couldn't some of them think that there is less Katharina Gerwens behind your texts? Because more software is involved?
Katharina: That would be short-sighted! For me, Beemgee was like a very clever, thoughtful colleague who didn't let any of my characters out of her sight and who I could always ask when exactly and why Theresa and Rosy split up or at what time and with what consequences Arndt Danske became behaviorally conspicuous. Beemgee also listed for me at any time the various blunders that my auxiliary policewoman Lydia occasionally makes.
What used to be stuck in note boxes and hung on pinboards was now captured on my second screen and could be filtered and sorted just the way I needed it. This has really inspired my flow during writing.
I felt safe, because I knew Beemgee is watching over me – and over my plot – so I'll simply write away. Although the word "simply" is exaggerated, writing is work and patience. The German pop star Udo Jürgens, who set some of my verses to music and sang them, once said it was illusory to wait for the "kiss of the muse". He said to me, when I was just 17 years young: "You don't write only with your head, but with your ass". I often think of that when I sit in front of my daily page target. This workload can only be achieved with good preparation, and Beemgee has definitely contributed to this in my latest crime thriller.
Beemgee: "Contributed" sounds like it was "nice to have".
Katharina: For ALL THE RAGE this is true! I first tried it out a bit and let my usual process run in parallel. So in the ten months of writing I spent a lot of time in Beemgee trying to find the exact place where I could park the information for a plot development or a flashback that came to my mind spontaneously. It rarely worked out right away! I admit I moaned occasionally.
Beemgee: Should we change the subject?
Katharina: Why? I have long since stopped swearing and moaning, and now I can't stop using Beemgee! I am currently developing my new project "The Last Caper". With Beemgee, of course. The book will be published by Piper in August 2019.
Beemgee: How did you familiarize yourself with the software? Intuitively or systematically?
Katharina: Both! A big help were the video tutorials on the internet, which I watched as a kind of "reward" after my daily workload and then immediately returned to the program to implement inspiration I got. The characters, in particular, took shape more quickly, and the Beemgee approach automatically made them much more complex, with more potential. I became aware of connections that I used to brood over for much longer. And I didn't have the problem of sitting in front of an absolutely empty page like I did in the past, because in Beemgee I had already recorded what will happen to whom and why in each chapter.
Beemgee: What would you change about Beemgee?
Katharina: So, if I may make a wish, my detectives are, like me, serial perpetrators, they go through crime thriller after crime thriller and develop. A copy function for whole characters would be incredibly practical. Then I would not have to duplicate the data if I wanted to refer back to past cases later while writing – without having to go through an awkward search. Will the Beemgee crew make that possible?
Beemgee: Work in progress …
Katharina: Yes, with me too! Because I'm currently thinking about a new and complex novel project. Without Beemgee I wouldn't dare.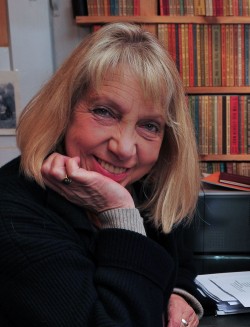 Katharina Gerwens
was born 1952 in Epe (now Gronau in Westphalia). She wrote her first text for the singer Udo Jürgens at the age of 15 and has since been involved as a lyricist on almost all of his albums. After her training as a journalist, she worked in various publishing houses, later at the German Youth Institute and today works as a freelance author and editor. Katharina Gerwens lives and works in Lower Bavaria. With "Stille Post in Kleinöd", "Die Gurkenflieger", "Anpfiff in Kleinöd", "Rufmord in Kleinöd" and "Selig in Kleinöd" (all together with Herbert Schröger) she has published five successful thrillers set in lower Bavaria at Piper Verlag. In 2013 she started a Westphalian crime series with "Schürzenjäger", which also includes "Westfälische Affären" and "Kegeltour".
Meanwhile her Kleinöd detective Franziska Hausmann is working as a special investigator in the Bavarian Forest and solves the cases there in her very special way: "Die letzte Brezn" (2014; set in Grafenau), "Die letzte Ölung" (2016; set in Hauzenberg), "Der letzte Tropfen" (2017; set in Salzweg) and "Der letzte Schrei" (2018; set in Viechtach). In August 2019 appears: "Der letzte Streich" (The Last Caper) (set in Vilshofen).
Katharina Gerwens has also published numerous short stories in various anthologies, several e-books and the novel "Gerlinde und der Tanz der Tierchen" (2016).
www.piper.de/buecher/der-letzte-schrei
Photo by M. Birgmann