Antje Tresp-Welte is the winner of the Your Perfect Plot challenge set by BoD and Beemgee.
In her guest blog post, she gives frank insight into her writing process and her experiences with Beemgee.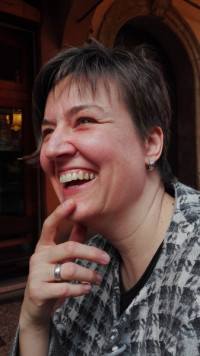 Short stories were child's play
When something intrigues me, I spin a story out of it. Until a few years ago I wrote mostly fairy tales, short stories for adults, poetry and stories for younger children, some of which were published in magazines. My story about a bad-tempered spectacled snake was published as a little book, "Charlotte and the Blue Lurker". For all these stories I only sketched a few thoughts as planning and then wrote them down relatively quickly.
By now, book projects fascinate me too. Currently they are crime novels and fantasy for children from 8 or 10 years.
Long takes longer …
During a holiday at the North Sea I had the idea for my first crime novel. In it, the protagonist, an eleven-year-old very imaginative boy with a penchant for drawing, not only saves his grandma's tea room from demolition, but is also involved in a mysterious story about a pirate who died long ago. I developed the original idea into a plot at a seminar for authors. I found the topic so great that I couldn't wait to start writing it. Beforehand, I made notes on the individual characters and considered important cornerstones of the plot with the help of the hero's journey. I started off with a great momentum and was soon able to read the first chapters to my son. Unfortunately his comment was, "Mama, that is much too long!"
… not to be longwinded
My two test readers came to a similar conclusion and I too had noticed that it somehow "grated". I wasn't really getting to the point. Was it due to my preliminary planning? Was it not detailed enough? I dived into the text, shortened passages, removed individual characters and worked out others more precisely. This changed entire storylines. At the same time my story gained more (narrative) speed and I found the tone for the language. 
The intensive work had engrossed me so much that I systematically and deliberately improved my knowledge of plot structure and character development. Looking back, this was worth every effort, because in the end with my mature manuscript my dream came true and I found a literary agent.
Kid detectives, second case
I finished my second crime novel in spring. The detective team gets to the root of the solution to the case using mathematical combination skills. This time I wanted to plan more professionally and above all in more detail. For this purpose I had created a character sheet which I had adapted to my needs as a children's book author.
The writing months were again very exciting and very creative, but there were also strenuous reworking and restructuring phases. It was only during the writing process that I was able to grasp the characters fully, as well as some parts of the plot. That's why I felt the desire to make the entire process more economical and at the same time more effective in the future, especially because I would like to develop an entire children's book series.
So I set myself concrete goals: I want to stay more in the flow of writing, but be less busy with replanning during the writing process. And above all, I want to know my characters not after the first version of the manuscript, but before I actually get started.
My perfect plan? Beemgee and the author challenge "Your Perfect Plot"
My search led me to the author challenge "Your Perfect Plot" by BoD and Beemgee. Was this the solution to avoid stumbling blocks? I was curious and wanted to find out.
The challenge, with tasks set at regular intervals, appealed to me very much. It was like a training course for authors, in self-learning mode: the curriculum included character development and plotting – probably the subject would be called "dramaturgy". While fulfilling the tasks, I discovered the functions of Beemgee one by one and tried them all out. It wasn't easy for me to get used to it at first, because there was a voice in the back of my head: Won't my spontaneous ideas get slowed down during the writing process if I plan too much in advance? Will my creativity suffer in the end? The opposite happened: I found the entire planning phase very creative, because every developed character or plot item got my imagination going and became the starting point for further ideas.
The Challenge – Initial Situation
I had a new project in mind with the working title "The Adventures of Mango, Mutz and Tupfer: Cloud Magic in Querkel Wood". The idea of the Querkel fantasy characters was inspired by a drawing that I remembered from an exhibition some time ago: the artist had painted snails that could lift their little houses off their bodies like hot-air balloons. However, for my children's book I didn't want boring grey-brown snails, but something colorful. At the sight of a sweets cart in a circus I realized in a flash: My flying snail mutations love sweets, are as colourful as candyfloss and – this came to my mind spontaneously – go by the name "Querkel". Conveniently, these creatures also have arms and hands.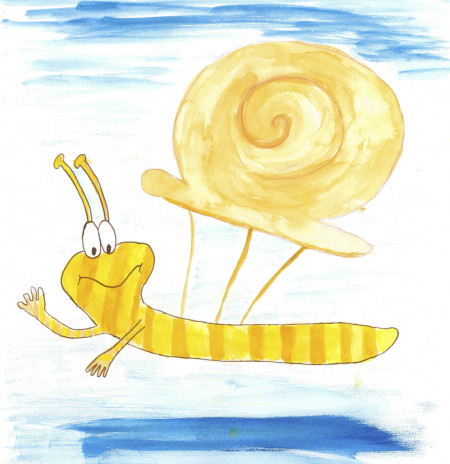 Sketch of Mango the Querkel by author Antje Tresp-Welte
I had already worked out the main features of the two protagonists, the Querkel Mango and the Troll Mutz. The lynx Tupfer, on the other hand, and his role in the story were still completely in the dark to me, and there was no proper antagonist either.
The conflict that Mango, Mutz and Tupfer overcome during their great mission was very clear to me, and I could have named the individual stages of their heroic journey. But how I could compose an exciting story from these different elements, with multifaceted characters, with defeats and high points, dangers, friends and enemies – that was a mystery to me.
The Challenge – Step by Step
Instead of writing and re-writing individual passages and developing the story by discovering it, this time I started with Beemgee. Soon I was convinced by the structure of the tool. The character developer in particular impressed me. I worked with this instrument until I could really see the personality of the characters in my mind's eye and imagine how they behave in different situations and how they speak.
It also became clear to me why I had had difficulties with character sheets – even with my own: They were detached from the plot and thus too abstract. Now, however, planning the characters was closely linked to planning the plot. I was able to translate character traits, motivation, etc. into specific plot scenes and thereby make the principle "show, don't tell" concrete during the planning phase already. I thought in detail about questions concerning my characters that I would never have asked myself before, or at least not until writing.
In the plot section, I like being able to divide the narrative into chapters. Whereas the floor and desk of my study used to be littered with notes and index cards, I can now see an overview of the complete plot on the screen.
The emotional journey of the readers – they come along!
During one of the Challenge's main tasks, the reader's emotional journey, it really "clicked" for me and I jumped back to this point several times to check my plot in this context. It was important to me to find out with what feelings children would experience while reading the story.
Stability of the Basic Framework with Beemgee
By now I am in the middle of writing. The first chapters are behind me and I notice that I was able to write them much more smoothly than before. My head is free for the linguistic and pictorial design of the individual scenes, without having the feeling that I have to replan anything.
And even if my imagination were to suggest something different at one point or another, I wouldn't worry about incorporating it. The framework of the plot is stable and bears the weight of the story easily. And that's why now I just write and follow the thread of my story and accompany Mango, Mutz and Tupfer on their great journey.
After the Querkels
There is one thing I am not worried about: running out of ideas. It's often the case that I don't actually look for the ideas, but find them: A report in the newspaper or on the internet that fascinates me, a particular smell, a painting. I always have my notebook with me everywhere, so that nothing escapes me. Any everyday event can trigger a firework of ideas in my head if I look closely and ask questions. Sometimes I play a game with myself, training my "idea and imagination muscles": A piece of bark that is stuck in a fence and from afar looks like a hand with a stretched out finger. A secret sign? From whom? The salesgirl in the shop who winks at me conspiratorially. What secret is she on the trail of? What role could she play in a book?
My main idea givers are children. After all, as a primary school teacher, I'm at the source. In addition, there are my experiences as a mom and the vivid memories of my own childhood – an exciting mix. I go through the world as an idea collector, like Pippi Longstocking: "The whole world is full of things and it is really necessary that someone finds them".